I've just learned that the call center industry so dear to me continues to achieve greater heights and more milestones in 2015. That's really great.
Accordingly, the industry is projected to provide jobs to more than 1.3M call center professionals and 3.2M more in indirect employment, not to mention that it is positioned to generate revenues to the tune of US$25B this year.
This is certainly enough of a reason why much more Filipinos are bent on, if not addicted to, improving their communication skills in English in order to join for the first time or jump ship onto this industry.
For several years since customer service or call center department outsourcing has become a booming industry, all sectors concerned have leveraged the Filipino people's propensity to learn, improve, and perfect their spoken and written English the fastest in Asia. This can be attributed to our rich history of being governed by the States from 1898 to 1946 and getting Westernized, somehow, in the process.
However, since English is only our second language, almost all call centers, big or small, have still incorporated a mandatory English Proficiency program into the new recruits' on-the-job training before they are allowed to take and make calls on the production floor.
This is not only to correct their pronunciation, refresh (since foundation has already been built since pre-school) them on grammar , neutralize their accent, and enrich their vocabulary but also to help them communicate effectively with their foreign customers over the phone through a crash course on culture, geography, time zones, and the like.
One particular significant aspect of new employee training though is standardizing their English words usage by discouraging and correcting the use of Filipinisms.
Filipinisms or Filipinoisms (for some) are words or terms that are expressed or spelled in English but are not necessarily right or acceptable as far as being used by Americans, Canadians, British, Australians, and Kiwis (the top native English-speaking countries) are concerned.
They are generally a product of direct translation (translating word for word from the local language, in this case Tagalog, to English) or a wrong local conversation habit that has never been corrected.
Without a doubt, call center agent aspirants learning these words and removing them from their vocabulary would help express themselves to their foreign customers much more effectively and be understood clearly in return.
However, from my years of working in the training and development division of the call center industry and until my current career as an owner of a corporate talent solutions, particularly talent development, firm, I've observed that there are words that are supposed to be entirely acceptable, if not strictly grammatical, that most local Soft Skills Foundation or Voice & Accent trainers have always trained their agents on to be wrong or non-existent when in fact, they're acceptable or used (both spoken and written).
They are :
Disclaimer: We're both referring to the formal and the conversational (informal) use of neutral English that can be understood by any race the speaker is talking to.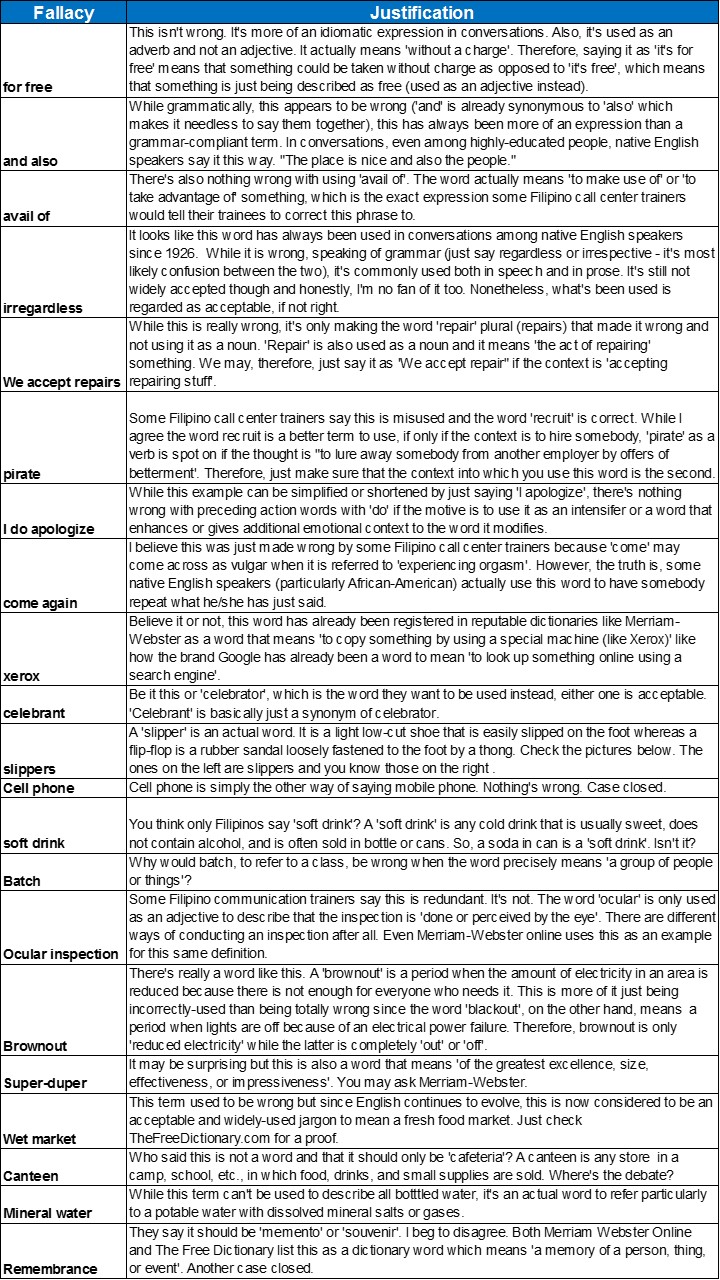 Note: Once again, 'irregardless' is obviously wrong. However, matter of fact, native English speakers (Americans particularly) actually use it. Thus, it's a misinformation for Filipino call center trainers to claim they don't say it this way. They actually do. Grammar-flawed, yes, but acceptable on the standard of common usage. (Reference: Merriam Webster)
Picture 1: (Slippers)
Picture 2: (Flip-flops)
Once again, the words above are commonly spoken and written by native English speakers, both in formal and informal interactions, so there's no reason they are incorrect.
By the way, the goal of call center training programs for these Soft Skills Foundation or Voice and Accent training is to guarantee that new hires, if not new agents, would make perfect sense when they converse with their customers over the phone and would be understood as effectively as well.
Therefore, I've just realized the desire to correct these misconceptions or fallacies so call center trainees would not be misinformed and they could perform their jobs, particularly speaking English fluently, well.
Now that you know, you can go ahead and bring these to your trainers' attention for a healthy debate.
Speaking of debate, this writer welcomes questions, clarifications, and contentions (especially from trainers who still believe the aforementioned words/expressions are wrong) below.
Let's learn from one another. Shall we?
References:
www.m-w.com (Merriam-Webster Online)
www.thefreedictionary.com (The Free Dictionary)
Intensive and extensive research
---
Does this article interest you in hiring us for your in-house corporate training program need on English Proficiency? Just give us a call at (02) 919-2734 or email us at info@mssbizsolutions.com and we'll design and develop something for your target participants.
If you need to see all of our Communication Skills training programs, just click the link below:
Communication Skills Training in the Philippines