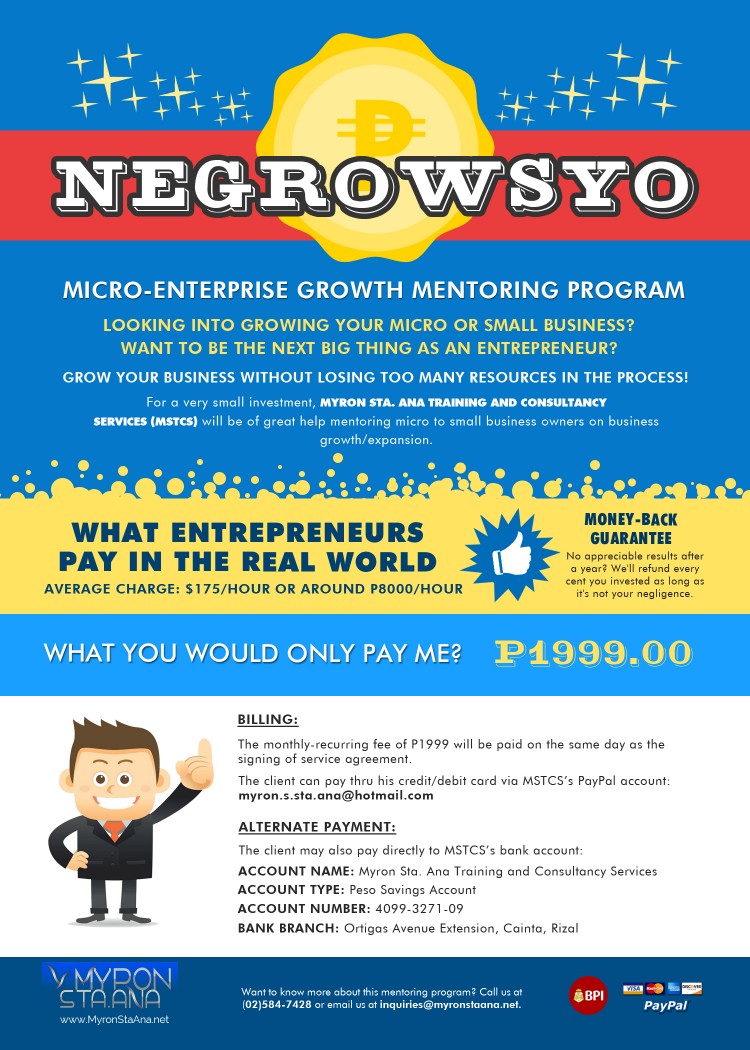 Note: Our new landline is (02) 919-2734
NeGROWsyo
MICRO-ENTERPRISE GROWTH MENTORING PROGRAM
SERVICE DESCRIPTION: 
NeGROWsyo is a renewable premium year-long individual or group mentoring program that is intended to help micro to small business owners take their businesses to a whole new level.
It is a business mentoring program in the Philippines.
PROGRAM GOAL: 
To help micro to small business enterprises grow their businesses in a matter of one year in terms of:
Increasing their number of employees from 10 people or less to 11 people or more;
Attracting big name local and international clients to transact with them and patronize their products and services;
Widen their business network by providing local and international business contacts like suppliers or vendors, potential partners, referrers, etc.;
Make their business presence more known nationally by optimizing online and offline marketing;
Augment their income by 50% or more depending on the client's level of cooperation and willingness.
MONTHLY-RECURRING MENTORING FEE:
P1999.00 per micro or small business
WHY IS THERE A MONTHLY PAYMENT?
The consultancy fee of P1999.00 per business is paid to MSS Business Solutions on a monthly basis not on account of profiteering but as the client's little contribution to the professional hours and expenses (transportation, communication, etc.) that will be incurred and invested during the term of the partnership.
On an average, business consultants (regardless of the nationality or country of operation) charge $175/hour. That is around P8000/hour with the Philippine currency.  This is how much businesses nowadays pay consultants to help them grow their businesses.
MSSBS, thru its consultant, Mr. Myron Sta. Ana, however, would only charge P1999/month. It is not considered a charge because the monthly rate is not even enough to compensate for the expert time and personal expenditures that he would invest in the partnership. It is only a meager donation during the course of the collaboration in order to help the partner-client grow his or her business without losing too many resources in the process.
So, come to think of it. for a small amount of contribution, MSSBS will be of great help mentoring micro to small business owners on business growth/expansion.
TERMS AND CONDITIONS:
MSS Business Solutions (formerly Myron Sta. Ana Training and Consultancy Services) is a Bureau of Internal Revenue (BIR) and Department of Trade and Industry (DTI)-registered business solely-owned by Mr. Myron Sta. Ana, a registered corporate trainer, motivational and inspirational speaker, talent development, first line management,and small business consultant, leadership and management mentor, communication and customer service coach, team and team culture building activities facilitator, expert author, and corporate events host.
Once the client agrees to the specifics of the partnership, a legal and binding service agreement will be accomplished to formalize everything.
According to the partnership, the client and MSSBS, thru Mr. Myron Sta. Ana, will consistently and regularly help each other (thru face-to-face, over-the-phone, online chat/Skype consultations) grow the former's business in terms of the aspects aforementioned (check the GOAL portion) in a period of a year unless otherwise the client renews the service agreement for another year or more.
The due date of the monthly-recurring mentoring or advisory fee will be based on the same date that the contract was mutually agreed upon and signed.  The said service agreement will be duly notarized and both parties will be given their copies for record-keeping and future reference.
BILLING:
The monthly-recurring fee of P1999.00 will be paid on the date every month the same as the date of accomplishment of the service agreement.
The client can pay thru his credit/debit card via MSSBS's PayPal account.
PayPal Email: myron.s.sta.ana@hotmail.com
Alternatively, the client may also pay directly to MSSBS's bank account:
BANK: Bank of the Philippine Islands
ACCOUNT NAME: Myron Sta. Ana Training and Consultancy Services
ACCOUNT TYPE: Peso Savings Account
ACCOUNT NUMBER: 4099-3271-09
BANK BRANCH: Ortigas Avenue Extension, Cainta, Rizal
MONEY-BACK GUARANTEE:
If MSSBS will be unable to grow the client's business after a year as promised, unless the absence or lack of success is due to the following reasons below, Mr. Myron Sta. Ana is willing to refund all monthly dues that were paid to him within the duration of the partnership.
Reason for non-application of refund:
If the failure of the partnership is due to one or more of the following:

Lack of participation and cooperation of the client
Unwillingness or hesitation of the client to heed the consultant's advice
Lack or absence of follow-thru from the side of the client
The client's lack of focus or attention to details
The client's inability or incompetence
The client not devoting time and energy to the collaboration