The Es of Leadership and Management Success: A 1-day Corporate EnterTRAINment on Becoming a LeaGer
June 22, 2018 @ 9:00 am

-

6:00 pm

8000P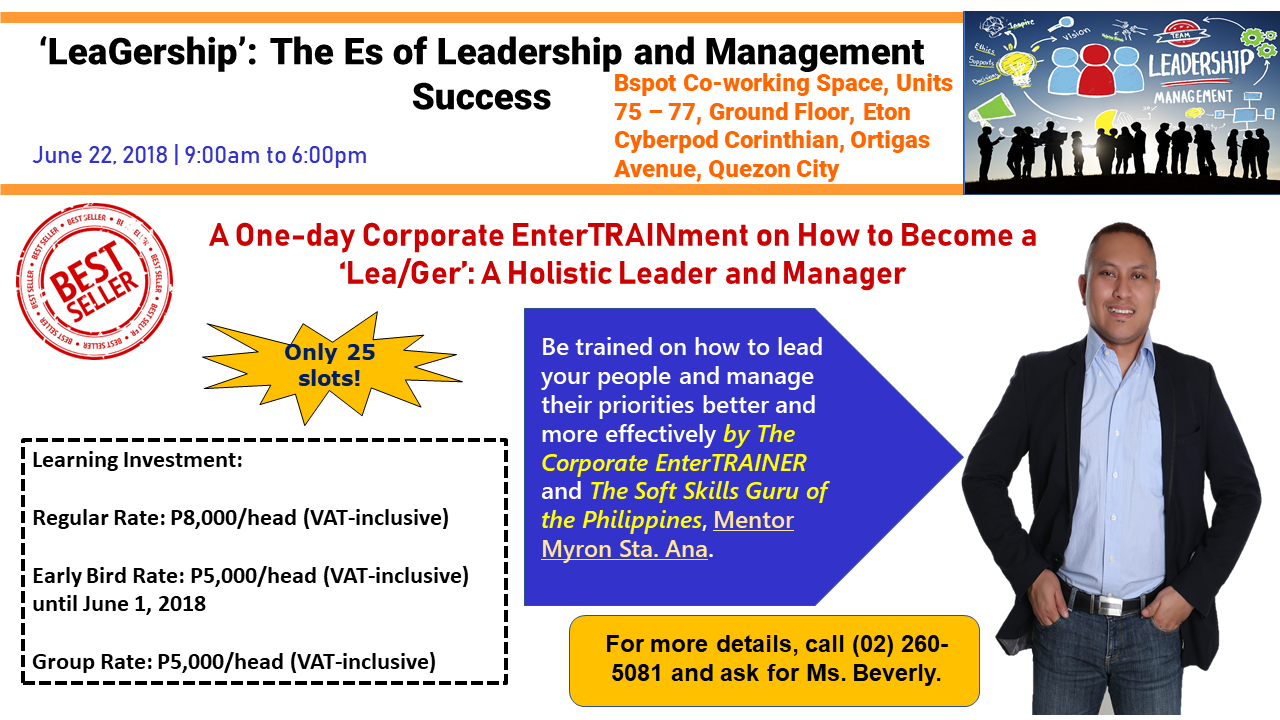 The Es of Leadership and Management Success
A High-Value Corporate EnterTrainment on Enhancing Leadership/Managerial Cognition, Competencies, and Character Toward Organizational and People Success
EnterTRAINment Details:
June 22, 2018
9:00am to 6:00pm
Studio + Training Room, Bspot Working Space, Units 75 – 77, Eton Cyberpod Corinthian
Ortigas Avenue, Barangay Ugong Norte, Quezon City, Metro Manila
To sign up for this EnterTRAINING Leadership and Management EnterTRAINment, ring us up at (02) 260-5081. You may also text or call us at Globe (0956-866-3453) or Smart (0939-217-2755).
Only 25 slots!
EnterTRAINment Overview:
A lot of companies are now investing more in sending both their newly-promoted and tenured supervisors and managers to public leadership and management seminars or in hiring external training providers to facilitate their similar in-house training need.
It is great news that they have seen the need and they already appreciate the advantages of allowing their leaders and managers to possess the right needed knowledge, skills, and abilities to be effective in the performance of their functions.
Nonetheless, only few learning opportunities truly provide value not only to the employees who signed up for the learning event but also to the company that the learners represent. More often not, the reality is the resource speaker may be very capable and the training's content looks very good on paper. In fact, the whole learning experience is promising. The only usual area for improvement though is that as soon as the learners go back to the workplace and apply all the wisdom gained from the training in the next 30 to 90 days, only a few learnings are retained, their application is not sustained for a long time, and/or worse, some aspects are still lacking in the way the training's beneficiaries lead and manage their employees.
We all have learned about some of the world and our history's renowned leadership and management theories and concepts like the Hersey-Blanchard Situational Leadership Theory, etc. The challenge though is that employees still could not close the gap between these theories and practicality or application.
This one-day EnterTRAINment has been put together from the belief that adult learners learn best when what they ought to learn was designed and developed not from the perspective of the trainer but from the viewpoint of the learners themselves, these supervisors and managers and the people they lead and manage, the employees.
This EnterTRAINING learning opportunity introduces the EnterTRAINEES to the Es of Leadership and Management Success. These Es are action words that the leaders and managers are expected to do if they desire to truly bring out the best in their people while guaranteeing productivity towards people and organizational success and employee retention and loyalty through happiness, satisfaction, and contentment.
EnterTRAINment Objectives:
By the end of this one-day EnterTRAINment, the participants should have been able to:
Know, understand, appreciate, and apply the Es of Leadership and Management success to develop and sustain high-performing employees who care for their company and employees as much as they care for themselves;

Be multi-dimensional or 'a complete package' leader and manager that contributes to the company's bottom lines while taking care of happy, satisfied, and contented employees at the same time.

Replicate themselves and echo the Es of Leadership and Management success through the people they influence, motivate, and inspire on a daily basis.
EnterTRAINment Highlights:
MODULE 1: EDUCATE
The Five As to Delegating or Giving Instructions Clearly and Thoroughly

All-encompassing Guidelines in Job Assistance or Support
 MODULE 2: EQUIP
The R.E.S.U.L.T.S.™ Model in Coaching People to Success

Root Cause and Talent Needs Assessments and their Role in Effective Management

The Holistic Approach in Leadership and Management
MODULE 3: ENCOURAGE
Five Proven Strategies to Improve Employee Loyalty

Management's Role in Work-life Co-existence

The CONNECT™ Strategy in Motivating and Inspiring Employees
MODULE 4: ENGAGE
The True Meaning of Employee Engagement – Keeping the Employees' Drive for Work Burning
MODULE 5: EMPOWER
How to Empower Employees – Enhancing their Maturity as Professionals
MODULE 6: ENTERTAIN (HAPPY EMPLOYEES – HAPPY CLIENTS)
Ensuring HCS (Happiness, Contentment, and Satisfaction) – Make-up of Model Employees

How to Make People Love their Jobs More Despite Work Stress and Management Pressure
MODULE 7: EXEMPLIFY
Leading by Example: Role-modeling Positive Actions
MODULE 8: ESCORT TO SUCCESS
The Ws of Leadership and Management Success

The Ps of Employer-Employee Harmony
Our EnterTRAINment Approach
We are renowned in the country and in the industry of professional training and speaking as The Corporate EnterTrainer. Our EnterTRAINEES will learn so much while having fun at the same time. We understand and apply the Adult Learning Principles and know how adults best learn through a mix of different training methodologies.
Your Investment in Our EnterTrainment
Regular Rate: P8,000.00/head (VAT-inclusive)
Early Bird Rate: P5,000.00/head (VAT-inclusive) until June 1, 2018
Group Rate: P5,000.00 (VAT-inclusive) for a minimum of 3 pax
Your EnterTrainment investment includes: An awesome EnterTrainment inclusive of workbooks, certificates and freebies plus delicious AM snack, lunch, and PM snack.
Payment Details
For your convenience, please deposit your payment at any branch of:                  
Bank: Metropolitan Bank & Trust Company (Metrobank)
Branch: Metrobank Taytay
Account Name: MSS Business Solutions
Type: Peso Savings Account
Account Number: 2673 2674 8447 4
Please email your validated deposit slip with your company name, contact person, contact information, and name of enrollees and their contact information at registrations@mssbizsolutions.com.
If you have any question, please feel free to get in touch with us:
Contact Information
(02) 260-5081
(Globe): 0956 866 3453 | (Smart) 0939 217 2755
info@mssbizsolutions.com | registrations@mssbizsolutions.com