1st ExSELLent Q1 Sales INCOMEference 2019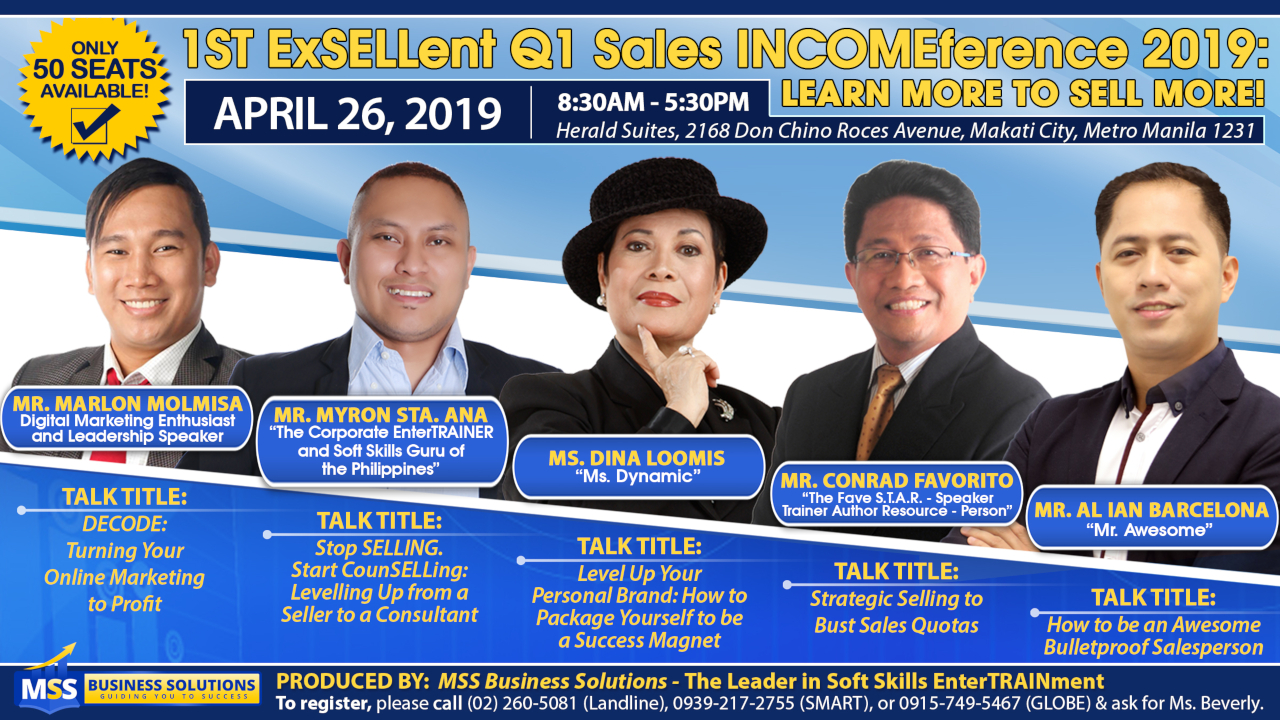 1st ExSELLent Q1 Sales INCOMEference 2019
Learn More to Sell More
April 26, 2019
8:30am – 5:30pm
HERALD SUITES
2168 Don Chino Roces Avenue, Makati City 1231
REGISTER NOW! CALL US AT
260-5081 | 697-0960 | 919-2734
(Globe) 0915-749-5467
(Smart) 0939-217-2755
OVERVIEW:
How was your 1st Quarter 2019 sales? Were you able to meet or exceed your sales quota or not? If YES, kudos to you and your sales team then. If NOT, then we have a lot to talk about.
You know what? Even if you had met your targets for the 1st Quarter, I'm very sure you had planned to exceed them, hadn't you? Now, if they were just met and not exceeded, what happened? What happened wrong? What didn't happen?
Make sure you educate, equip, and encourage your sales force with the right and sufficient knowledge, skills, and attitude that are practical, success-leading, and results-oriented.
Send them to a sales learning event highlighted by highly-experienced, undoubtedly time-proven, and very credible practitioner-resource speakers who haven't only been there and done that but are also go-to speakers, trainers, and consultants, in best practices in sales in the Philippines.
We'll take care of putting them in a learning experience where they learn and have so much fun at the same time.
See you at the 1st ExSELLent Q1 Sales INCOMEference 2019!
MYRON STA. ANA
The Corporate EnterTRAINER and Soft Skills Guru of the Philippines
Chief EnterTRAINment Officer (CEO), MSS Business Solutions
Chief Trainer-Speaker-Consultant-Facilitator and Managing Partner, Thought Leaders Philippines Speakers, Trainers, and Consultants Bureau
Founding President, Philippine Advocates for Consultants and Trainers
TALK TITLE:
Stop SELLING. Start CounSELLing: Levelling Up from a Seller to a Consultant
MARLON MOLMISA
Founding President and CEO, Mzone Training Services
Lead Firestarter and Co-Founder, Elevaxion, Inc.
TALK TILE:
DECODE: Turning Your Online Marketing to Profit
CONRAD FAVORITO
The Fave S.T.A.R. – Speaker, Trainer, Author, and Resource Person
President and CEO, Mr. Fave Management Training and Consulting Services
TALK TITLE:
Strategic Selling to Bust Sales Quotas
DINA LOOMIS
President and CEO, South East Asia Speakers and Trainers Bureau, Inc.
Board of Trustee, People Management Association of the Philippines (PMAP)
TALK TITLE:
Level Up Your Personal Brand: How to Package Yourself to be a Success Magnet
AL IAN BARCELONA
Mr. Awesome
Managing Director and Chief Awesome Officer, AIB Training Events and Consulting Company
TALK TILE:
How to be an Awesome Bulletproof Salesperson